This is the third post in a series of four
presenting the theory behind our ROI model for social media
The previous two posts in this blog series demonstrated that the value of every interaction between consumers and brand is defined by the time spent by consumers, the trust between sender and receiver, the sentiment exchanged, and the average income of the involved consumers. The ROI of social media is simply the sum of all the touchpoints in a campaign or social media program.

The same is true for offline campaigns involving for instance TV commercials. During a Super Bowl ad 100 million consumers interact for 30 seconds with a marketer who has a relative trust level of one. According to Nielsen, 33% of the viewers "like" a commercial. With their average net income of $35,500 per year, or $0.21 per minute, this third of the viewership invests $3.5 million in the commercial that costs a brand $3.3 million.

The Small Circle turned the above formula into a ROI model that brands can use for any social media campaign or program. To test its validity, we applied the model to more than 50 well-documented social media campaigns and programs. A selection of these tests is shown below.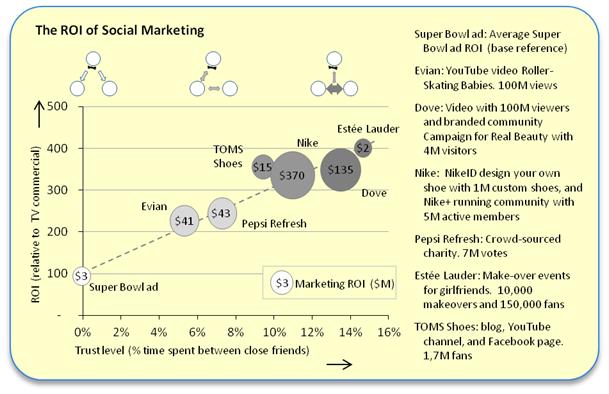 The results of these tests confirm that:
The ROI of social media is up to four times as high as of TV commercials. Consumers pass the branded content along and add trust every time they do.
Both small and large campaigns and programs can reach high returns. The closer the senders and receivers of branded content are, the higher the impact on the brand.
In the most successful campaigns, consumers do the talking. Marketers don't have the time to chat with every fan, and consumers prefer to talk with each other anyway.
You are more than welcome to use this tried-and-tested interactive model to verify the ROI of your brand's fan page, Twitter account, email campaign, Pinterest Board, or other social media activities. Download the model, and find out how much money your social media campaign or program is making your company. Use the ROI model to benchmark your performance against the best-in-class campaigns. Discover which investments you should make to bring your social marketing to the next level, and predict the ROI of these investments.
Social media don't have the reach of traditional media. They also don't have the immediate impact of a 30-second TV commercial: it took Evian 4 months to reach 50 million views and Dove even longer, being passed along from one close friend to the next. The returns of social media however mirror the returns of the relationships they support: TV commercials are like speed dating between strangers, where 95% of the names and faces are forgotten the day after; the most intimate social brand experiences take months or years to build, but create shared brand loyalty that lasts.